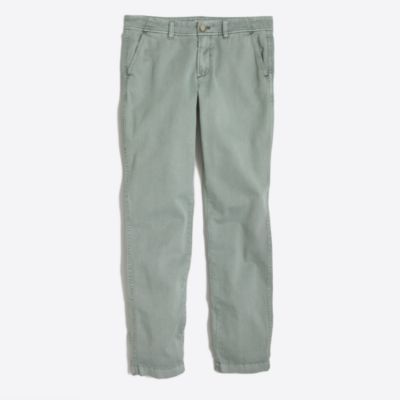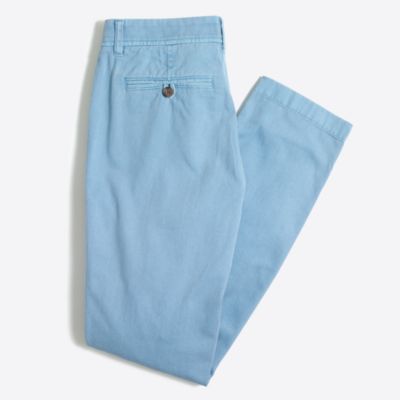 Product Details
Cotton.
Sits just above hip.
Easy through hip and thigh, with a slim, straight leg.
28" inseam, 26" rolled.
Machine wash.
Import.
Sunwashed slim chino
is rated out of
5
by
35
.
Rated

5

out of

5
by
nick
from
great fabric
soft and comfortable. runs slightly large (especially loose in the back side) - got a size 0 when I usually wear a 2 or 4. the fabric is great - got the off white first and went back for the dark grey.
Date published: 2016-10-23
Rated

4

out of

5
by
AERVA
from
More slouchy than slim, but still a good buy
As other reviewers have mentioned, the fit of these pants is more relaxed than "slim" implies. Having read those reviews, I got a 00 instead of a 0 (I'm 5'4", 106 pounds) and I still have some room around the waist and in the seat. They aren't really slim until the lower leg. I was looking for something casual, so these work, though the extra space in the seat isn't very flattering. They feel well-made and will be great for spring and fall, just be aware that the fit is better described by reviewers than by the name of the pants!
Date published: 2017-04-28
Rated

4

out of

5
by
Leigh
from
SUNWASHED SLIM CHINO
PROS I bought these pants in the dark grey, and the color was absolutely beautiful. It was exactly what I was hoping. The fabric is soft, light, and comfortable. CONS If you have ever done a squat in your life, you won't fit these pants. There is no stretch that I noticed, or I had maxed it out in the quad area. The waist fit okay. CONCLUSION These are *short* pants. The inseem lengths are given, so I didn't detract any stars for it. I know the ice caps are melting, but high water pants are, well, unnecessary? I thought I would give it a shot to wear to work, but they ended up too narrow in the legs which is a shame because the fabric is so nice.
Date published: 2017-04-19
Rated

4

out of

5
by
amber8
from
cute n' comfy
Slightly small but not too bad-I ordered these grey ones thinking they would be exactly like the classic j crew distressed chino I bought---(pinkish) also in size 8...but feel I could have gone to a 10 in these. Still I like them and they are fun and flattering. Cute with tennies or ballet flats-becuz of the length. Gonna keep them around for the good price. Plus this color grey looks good on everyone!
Date published: 2017-01-19
Rated

4

out of

5
by
RunningMomma
from
Cute casual pants but run big
I am 5' 7" and 130 lbs. I bought a size 4 and could not believe how much room was in the waist/hip area. I am a very average size 4/27. I am returning these pants and going to try a size 2 however, I rarely where a size 2. I will post my review once I get them. I find the fit reviews to be SO helpful. The pants are very cute and I think I will "live in them" on the weekend. Very cute spring/fall pants.
Date published: 2016-10-21
Rated

4

out of

5
by
Salamanda09
from
Casual jeans alternative
These pants run large in the waist, as they are supposed to have a loose, laid back look, so be aware of that when purchasing. They are also quite low rise, which gives them the slouchy, casual look. Personally, I bought my normal size. If you don't want them to be low or loose, I would probably size down. I have not washed them yet and I've only worn them once, so I can't say how they'll hold up, but they're made of a nice lightweight fabric that is perfect to wear in the summer without being too hot. I bought the grey color, but tried on the cream as well, and the cream was not see-through as long as you don't wear bright underwear. The cuffs are not sewn in place and can be unrolled completely if you don't want to roll them. I think these will look great with a tee and sandals or slip-on sneakers.
Date published: 2016-06-18
Rated

3

out of

5
by
SUSIE
from
great for summer
Do not fit as well as previous Crew pants in a 2. Slightly larger. Very cute and good for spring/summer! Wash well.
Date published: 2017-04-26
Rated

3

out of

5
by
Erinsn77
from
Cute pants but
These are cute pants but I don't like that they are not full length. I feel like I'm wearing high waters. Hopefully in the spring I can pull them off.
Date published: 2017-01-21
Rated

2

out of

5
by
alwaysalady
from
Bummed out
Well, these pants are okay, but I am not that crazy about them for a couple of reasons. First, they are super light weight. I think they are meant to be a summer weight pant, but they are so light weight I am not sure that they will last very long. Secondly, they run very large. I ordered my normal size, but they are so large on me that they are uncomfortable. I am disappointed. I was really looking forward to some cute, laid-back khakis.
Date published: 2016-11-23
Rated

1

out of

5
by
erkas
from
poor quality fabric
Perfect size and nice style. However, after few washes (normal wash in cold water) the fabric started to tear. Now this pair of pants is torn with holes in the front, next to the zipper, and back.
Date published: 2017-02-22
Rated

3

out of

5
by
jesser
from
Love the fabric but way too big
I ordered my regular size 0 (I'm 5'2", 105 pound) but these pants were very large at the waist. I was truly disappointed because they are quite nice quality and super soft. The green color is lovely. The length was perfect, I'm short and they didn't drag on the ground. Too bad!
Date published: 2016-07-27
Rated

5

out of

5
by
Shoefly
from
My favorite pants
My size was sold out in one of your stores, so they ordered it for me. I LOVE them! They are so comfortable and great for summer. The only thing I would change would be the length. I am 5' 7" and only cuff them once or they are a little short for my taste. I ordered the dark coal, and will get another color soon! They are a looser fit which I love, but not baggy. I ordered my true size and they are perfect.
Date published: 2016-07-16
Rated

3

out of

5
by
Peggy
from
Runs big and then stretches bigger after wear
I bought all three colors in a 0, I'm 5'7 and 118 lbs. They slowly but surley all got too big and baggy in the butt:( I'm return an extra pair I bought in the cream, and exchaned it for a 00. J Crew stop with the vanity sizing!!!
Date published: 2016-11-03
Rated

5

out of

5
by
Lisa
from
Love these pants!
I really like these pants. They have a flattering fit and the quality and fabric are great. My only criticism is that a few hours after putting them on, they grow a bit and look baggy. I have washed them a few times and haven't had any issues. I bought the dark coal (gray) and love the color. I would buy several more pairs if there were offered in better colors.
Date published: 2017-03-22
Rated

2

out of

5
by
ArlingtonReviewer
from
Not "slim"
I just got these and was disappointed to find they aren't really "slim" at all. They have a pretty wide/straight leg. I was hoping for something slimmer, more towards a skinny leg. Not the style I was hoping for at all.
Date published: 2016-06-23
Rated

5

out of

5
by
andyourlittledogtoo
from
A great find
I was shopping for some pants I could wear to work that were comfortable, sort of business like and sort of casual and I found these. I originally ordered these in a size 14 as I had gained a little weight and figured that was about right. I received the 14's pretty quickly and found they were way too big, but comfortable. I reordered a smaller size and they took awhile to get here so I wore the really big ones. When the new size arrived I was very happy to see that they were still loose enough to be comfortable but fit much better. So, today I just ordered a new color. They're nice and kind of like your best friend!
Date published: 2017-01-03
Rated

5

out of

5
by
Cathy
from
Perfect multi purpose pant!
Great pant and fit. Very versatile - can dress it up with a blazer for work or dress down for weekends. So perfect, I bought four pairs in different colors. It will seem a little tight when you first put Them on but after wearing them for a few hours they stretch and are perfect. Great buy!
Date published: 2017-05-13
Rated

5

out of

5
by
Mlmorgan3074
from
Perfect dress casual pant
This is my second pair! Love these pants. Perfect paired with a tank or tee and sandals.
Date published: 2017-05-13
Rated

5

out of

5
by
Robin
from
Perfect Pants
Great pants and a great fit! I had to get them in 2 colors :)
Date published: 2017-05-13
Rated

5

out of

5
by
Tina
from
Love the Chinos but still too large
I returned the size 4 because they were huge. A size 2 was sent back to me as requested but it was still too large. Did you receive my second return? I think the size 2 was mismarked and I put a note inside the box asking for the size to be verified and if it was mismarked to send me a new size 2.
Date published: 2017-04-09
Rated

5

out of

5
by
ssprice
from
Go anywhere pants
Great casual pants! Fits well, Looks great with flats or heels! Ordered every color!
Date published: 2017-03-07
Rated

5

out of

5
by
JenL
from
Perfect Spring Pants
I ordered these pants in the Vintage Champagne & Charcoal Grey. I am very happy with how they fit. Perfect for transitioning into Spring!
Date published: 2017-02-13
Rated

5

out of

5
by
KelS
from
Glad I purchased
They were slightly bigger like other reviewers posted, just sized down a size. Really like them!
Date published: 2017-01-27
Rated

5

out of

5
by
KDog
from
Great chino.
These chinos fit a little large. Love the feel and the wear is wonderful. I have several pair of these chinos. Wish they came in many other colors.
Date published: 2016-10-23
Rated

4

out of

5
by
SunnyDays
from
Comfy Loosefit Chinos
Bought these chinos in a sunwashed grey and green. I found the material to comfortable and soft. This would make a great staple in your closet if you found the right fit. The colors are also quite nice as well. I ended up returning both (ordered based off the size chart: 0 and also a 00), because they were too baggy. The 00 fit perfect around my waist, but the slouchy look did not flatter my shorter legs. Reference sizing: inseam 27, waist 25 (fit into 2P, 0P, 00regular).
Date published: 2017-03-28
Rated

4

out of

5
by
Hannah
from
Large in waist
I love the fabric and softness of these pants. I got them in Pale Redwood color. Note that they are more red than pink. The only issue I have with the pants is the waist- I ordered a size 2 as always, and the legs/ seat were perfect, but the waist was way too big. Kind of felt like I was hula hooping in them. (that's why I gave them 4 instead of 5 stars) So just be aware of this if you have a smaller waist relative to your hips. Also, for my fellow long-legged ladies, know that they fell several inches above my ankle.
Date published: 2017-03-22
Rated

4

out of

5
by
chris
from
nice and casual
i LOVE these casual pants ! - they did fade in color in the wash though :(
Date published: 2017-03-21
Rated

3

out of

5
by
MTBV
from
Cute pant but fit was off
I really like the washed look of these pants but I found the fit to be off. The material is high quality, but stiff, so they felt tight in the legs but were loose at the waist. I ended up returning them.
Date published: 2016-09-15
Rated

2

out of

5
by
Carol
from
Saggy bottom
Loved the color and the material. I sized down per other reviews. The fit was ok on the hips and thighs, but the bottom was REALLY saggy. I guess saggy bottom = boyfriend fit? It wasn't very flattering. These are going back.
Date published: 2017-03-17
Rated

2

out of

5
by
Carrie
from
Slim chino runs small
Pants ran small and are quite short. Ended up returning them.
Date published: 2017-01-12