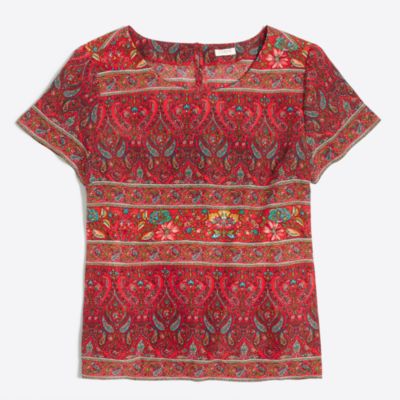 Product Details
Poly.
Machine wash.
Import.
Printed T-shirt
is rated out of
5
by
37
.
Rated

2

out of

5
by
WashingtonDC
from
Cute shirt but poor design
I really liked this shirt but the design is not great. The back seem ripped after only two wears. Also the stitching came undone on the sleeve. For reference I wear an XXS in pretty much all jcrew factory tops (unless there's a petite option then I size up). This shirt is extremely big and although I think that is the style, it does not have any give when moving arms, etc. I'm disappointed I only got two wears out of it :(
Date published: 2015-07-15
Rated

2

out of

5
by
Kathryn
from
So disappointed!
I absolutely fell in love with this shirt online, and was so disappointed when it arrived. The fabric is paper thin and unlined, yet has a 1-inch allowance around the neckline. Just enough to pop out of the shirt. This shirt also fits differently than any others I have purchased from J.Crew or Factory. The fabric is stiff - it has zero stretch and is cut straight, so there is no flow at the bottom. I am a true Small/ 6 in J.Crew (5'8", 155 lbs, 32DD), and the small fit me miserably; big and boxy in the shoulders, and too small and tight at the hip. It wasn't worth exchanging for a medium, which would have been way too large in the shoulders.
Date published: 2015-06-08
Rated

1

out of

5
by
Kristin
from
Cute shirt, very poor quality.
I purchased this shirt and was pleased with the fit and style of the shirt. However, after one wash, the bottom seam unraveled and the seam in the back partially unraveled. Maybe this was just a defect with this particular item, but if not, the shirt is very poor quality.
Date published: 2015-07-30
Rated

5

out of

5
by
Elizabeth
from
Perfect Length!!!!
I was looking for a black and white top to wear to work this summer and this was a perfect find! The material is light weight but not sheer which can be hard to find. The sleeves are also a more ideal length to wear to work than a tank top style. I wish that J Crew had more styles with this sleeve length and material! (Not really a fan of the other prints...) I am 5'11 and 140 lbs and I typically have trouble finding shirts that are long enough. I usually would opt for a medium but found that the shoulders were to wide and purchased the small. The length in the body was basically the same between the S/ M and keeps you covered!This is a great purchase that I will definitely be wearing into the fall as well!
Date published: 2015-07-16
Rated

5

out of

5
by
nocalmom
from
Love it!
I am normally an XS and that is the size I got in this blouse. I'm 5'4" and 115 lbs. It fits perfectly and no static (yet). I love the polka dot print also! Hangs nicely. Not too long either.
Date published: 2015-06-03
Rated

3

out of

5
by
Jennifer
from
Cute, but poorly constructed
I love this top. Unfortunately during my second wear, the bottom hem and one sleeve hem came out of it completely. Nothing a tailor can't fix, but I expected better quality.
Date published: 2015-07-05
Rated

4

out of

5
by
Cagliari67
from
Beautiful colour
Very impressed with the saturated jewel tones on this shirt - it immediately makes a statement. Note that despite the item title, it is not a 'tee' but rather a poly blouse. The fabric feels good on and is a good spring weight. Fit is tts, length sits at hip. Have had lots of compliments on this one.
Date published: 2015-05-19
Rated

2

out of

5
by
Anna
from
Gorgeous but not consistently sized
Really loved how this looked but it is so much smaller than other cuts.
Date published: 2016-09-19
Rated

5

out of

5
by
Nicole913
from
Saved by the Bell
I have the top whose print will likely remind you of Saved by the Bell. Really like it because it's lightweight, easy to launder (machine wash), and the pattern is great for summer. I was iffy about it at first (not my color pallet; I usually go for bold colors) but my husband convinced me to get it and now I'm glad I did!
Date published: 2015-07-07
Rated

5

out of

5
by
lindsey892
from
Classic and Easy to Wear
I didn't think I would keep this when I first pulled it out of the box, but after a good steam it is a great shirt. It is lightweight and does require a cami under it for work, but I am ok with that. The material is comfortable and doesn't wrinkle easily. I wish there were more colors/options in this one.
Date published: 2016-04-21
Rated

5

out of

5
by
castor
from
Beautiful top
For reference, I am 5ft3" 154lbs 34C and medium fit perfectly. The colors are exactly as shown. The fit is slightly snug in the hips, but I am kinda pear shaped. Even though its poly, the fabric feels silky and luxurious. Very unique colors and pretty print.
Date published: 2016-04-08
Rated

5

out of

5
by
Coxxy
from
Dainty!
I got the black & white polka dot shirt....I love it. The shirt does not have a spandex to it so it doesn't give in. I found in my breast area I could have use a size up to have a little relaxed fit. So if you are breasty I recommend a size up.
Date published: 2015-06-26
Rated

4

out of

5
by
shopfordeals
from
Love the print, looks great with cardigans
I usually wear between a medium and a large. This shirt is a tight fit (even as a large) around the chest and loose everywhere else. The shirt bunches up, giving a cowl neck look which does not look bad under a cardigan.
Date published: 2016-10-15
Rated

4

out of

5
by
BrooklynBeth
from
A bit boxy but cute nonetheless
I'm 5'4" and curvy and I usually get a size L to accommodate my 34DD chest and big shoulders. The L was a bit boxy, but I wouldn't want to size down because the poly fabric has no stretch (and it also doesn't breathe). It hit right at my hips and I do have a fairly proportionate torso for my height. I got the black and white polka dots and it's really cute. It's actually black and white--true to the photos. It's a cute piece and I'm happy that I got it on sale!
Date published: 2015-07-31
Rated

4

out of

5
by
cwctherd
from
very cute top
I absolutely love the print on this top! I've become a big fan of JCF's silky tees, and this one did not disappoint. I would say it runs slightly large, as I usually wear a 4 in tops, but the XS fit me. It's also slightly shorter than I had anticipated. Overall, this was a great purchase!
Date published: 2015-07-29
Rated

4

out of

5
by
lwilt606
from
Love the pattern. Little snug at bottom.
Nice bright vivid pattern, but I found the bottom and arms a little snug in the size L. This is described as a tee, but it really is what I would call a blouse - there's no stretch to it.
Date published: 2015-06-11
Rated

5

out of

5
by
Melissa
from
Blue and White stripes
I usually wear S in j crew and fits perfectly but in this case I believe it runs a little small than J crew regular cut. It looks great but it is just a little small than the average. I kept it and I wore it and I really like this t-shirt because it is very easy to combine and the quality makes your look polished.
Date published: 2016-05-25
Rated

5

out of

5
by
gayatri727
from
Perfect blouse for work!
I love this blouse! I will be wearing it to work. Great purchase
Date published: 2016-04-04
Rated

5

out of

5
by
Nicole
from
Beautiful print looks just as pictured
This top lived up to my expectations. The print is lovely, and great for work or weekends. The fabric isn't my favorite but for the price and print I had no choice but to buy it.
Date published: 2015-12-30
Rated

5

out of

5
by
STHOMAS
from
polka dot short sleeve
Haven't wore it yet but looks the same online in person. The fit is nice and I look forward to wearing with a yellow JCREW a line skirt also a green pencil skirt.
Date published: 2015-08-20
Rated

5

out of

5
by
ChiTown
from
Versatile Polka Dot Shirt
Love this shirt! wore it today for the first time with dressy white pants to work and received compliments. It's perfect for work or casual. Great purchase!
Date published: 2015-08-13
Rated

5

out of

5
by
jennymac1478
from
Quality top
I love this top as it is loose and sits below the waist, super cute with leggings are fitted black pants.
Date published: 2015-08-13
Rated

5

out of

5
by
madeline428
from
Dress Up or Down
I couldn't resist after receiving one and I bought all three prints. These tees are more like blouses, perfect for your summertime wardrobe. You can dress them up or down. I've gotten a ton of compliments. Love the colors and they feel great on.
Date published: 2015-07-02
Rated

5

out of

5
by
ymt2010
from
Nice fit and fabric
it fits a little loose but that's the style. Looks nice with fitted pants or a slim skirt. The neckline is so nicely finished. Even though I'm not a huge fan of polyester, it feels really nice and is pretty breathable. I have the black and white polka dot and I love the pattern, looks great in person.
Date published: 2015-06-14
Rated

5

out of

5
by
Annie
from
Fabulous Blouse!
This is a very flattering and versatile top. It is extremely comfortable and true to size. It can be dressed up or down with a great price point. I have received many compliments and have 2 of the same top in 2 different prints ;)
Date published: 2015-06-11
Rated

4

out of

5
by
Andrewbit
from
Cute tee, great layering piece and lightweight
I bought this tee to wear with jeans or for work as it can work both both. It has a boxy shape and runs a little big. I do love it, bought the polka dot version and have gotten a lot of use out of it already. Packs well for trips too!
Date published: 2015-12-07
Rated

4

out of

5
by
rachelbee14
from
Not the greatest material
The shirt is a little thinner than I expected, but overall looks nice and keeps its shape well.
Date published: 2015-07-07
Rated

4

out of

5
by
swat
from
love this top
print is gorgeous. I wish it were a bit shorter; because of the difference between my butt and waist, the bottom scrunches up a bit. I might cut slits in the sides at the bottom for a better fit. Fits well otherwise, roomy in the wasit with enough room in the arms and bust without swallowing or restricting my 5'1" frame.
Date published: 2015-06-19
Rated

3

out of

5
by
Rittenmiss
from
Collar and sizing a negative
I can see this shirt looking great in a petite and/or small chested person. I go large to compensate for a large chest and it looks frumpy. Too bad because it's pretty.
Date published: 2016-07-02
Rated

3

out of

5
by
ILIKESHORTS
from
Nice... but could be better
The synthetic material gets me (YES! i should have known-- the description clearly states that there are no natural fibers here). The black with white polka dots looks cute, but there's no give. When i move my arms up and down (something i do very often because I have small children), the sleeve catches in the back at the shoulder. Not very comfortable. Looks really great, yes... you'll have to stay in all air-spaces. Or else you will suffer like I do in this shirt in this Texas heat.
Date published: 2015-07-14