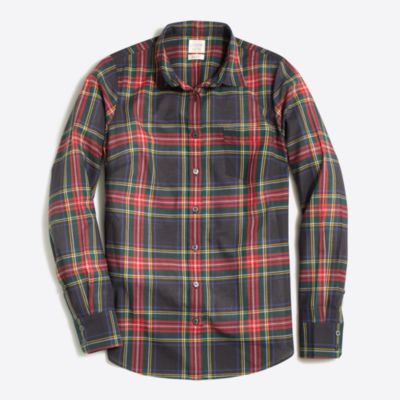 Product Details
Cotton.
Long sleeves.
Machine wash.
Import.
Plaid classic button-down shirt in perfect fit
Plaid classic button-down shirt in perfect fit
is rated out of
5
by
65
.
Rated

4

out of

5
by
NCshopper
from
Great for the price
This shirt was a little more sheer than I was expecting but the lightweight material makes it perfect for layering underneath a sweater. I was torn between getting an XXS or an XS so I ended up buying an XS and I wish I would've gotten the XXS as the fit runs a little big (for reference I'm 5'2", 115lb). Overall, it's a great shirt.
Date published: 2017-02-01
Rated

4

out of

5
by
leahnoodles
from
Holiday pop
Purchased the ivory red color & am very excited to wear this throughout the holiday season. Perfect way to look festive but not obnoxious. Looks great layered under the quilted vest! Cut- Fitted but not tight (hourglass shape)- glad to find a button up that's not boxy. The M does not gap at the chest (34C), buttons lay flat, arms are good length, torso is too long to wear untucked (common problem for me w/ button ups, short torso). Fabric- Thin but not sheer. Would not wear as a single layer when cold out. Looks great as a base layer under a vest or sweater. Quality- Decent. Fabric is thin, some of the stitching is already coming undone. Will probably not hold up well w/ frequent wash/dry cycles.
Date published: 2016-12-05
Rated

4

out of

5
by
desertmama
from
The "red ivory" is red and blue - not green
I purchased this shirt in the "red ivory" color because in the photo it looks like a festive red and green (with blue and yellow in there). It is not. The shirt is basically red and navy. I agree with the other reviewers that the material is thin and it runs slightly smaller than average. I am a size 12/36C and the Large fits me, but there is no room to layer anything (tank or t-shirt) under it. I just wanted to give shoppers a heads up on the color. If you are looking for a festive/red green, then this is not the shirt for you.
Date published: 2016-11-30
Rated

4

out of

5
by
SarahtheShopper
from
Pretty plaid shirt
I picked this up in the ivory plaid because it's really pretty in person. It's not "faded" looking like the black plaid is and the pattern really pops. However, as others have stated this is thin. I know that it's not a flannel but it's made incredibly lightweight. It's good for layering since it wouldn't add bulk but honestly, I would've preferred to have a slightly thicker shirt. I ended up getting it in my normal size small because I know I'll get a lot of use out of it over the holidays and will be great for layering but J.Crew, please, please make these a bit more substantial.
Date published: 2016-11-28
Rated

4

out of

5
by
AnnFairview
from
Festive Holiday Plaid
I purchased the 'black' version of this style and I am looking forward to wearing it during the holidays. I am 5'9, weigh 135 pounds, and I have very long arms. The body of the Small fit great however the sleeves just touched my wrist bone. I purchased the Medium because the sleeves were longer however the body portion was slightly baggier (but not too bad). Overall I preferred the body fit of the Small and the sleeve fit of the Medium. Like other reviewers, the material is thin but it is definitely NOT see through.
Date published: 2016-11-14
Rated

4

out of

5
by
abbys
from
Cute
I bought the red/green/ivory plaid in hopes of wearing it with a khaki skirt to work during the fall and winter. The shirt is nice and it fits me true to size (XS) but calling one of the colors in it "green" is a stretch. It's more like a dark teal when I was expecting true, kelly green. I'll probably still keep it and hope that it can pass for green during the holidays. Definitely worth a try if you want a casual button down but beware of the color descriptions!
Date published: 2016-09-03
Rated

3

out of

5
by
librarirun
from
Classic plaid - but thin material
I have been looking for this tartan plaid since it came out a few years ago - and jumped on the chance to have it via Factory. I actually prefer Factory over retail - just because the fit is usually a bit more loose. I found the sizing true to size for me - I wear size small in all their flannel shirts/button ups - and this was no different at all for me in a size small. However, like others have mentioned, I was extremely disappointed in how THIN the material was. It doesn't even feel like a normal cotton shirt - it doesn't have the right material to be thick enough. It was completely sheer when holding the shirt up (through front and back - 2 layers) - and that isn't at all what J.Crew Factory normally sells for their button-downs. Not sure why they did it with this style - but I still kept the shirt because it was the long-time pattern I was looking for. It does lay well when wearing because it is a bit thinner in material. Not sure how the thin material will hold up to washings.
Date published: 2016-11-01
Rated

2

out of

5
by
Mich510
from
Ehhhh
I bought the brilliant rose color, which is a great combination of colors for fall. This shirt fits true to size but I don't like how thin and how poor the quality is. The shirt is practically transparent, not soft, and after I washed it once, there are threads coming loose. I recommend people to pass on this shirt.
Date published: 2015-10-28
Rated

4

out of

5
by
LaChienne
from
Summer Plaid
If you are embracing the 90s or are trying out your lumberjack chic look, this shirt for you. The Atlantic color way is really beautiful and pairs well with rusts, reds, and golds/camels as we head into Fall 2015. However the weight of the shirt is very Summer 2015. The heft of the shirt would compare to a cotton voile. Unless you want to show what you are wearing underneath, keep it neutral. Nice layering piece or shirt for the Indian Summer days that lead into the cooler climes of autumn.
Date published: 2015-09-05
Rated

5

out of

5
by
Marcia
from
Comfy, quality shirt
I was attracted to the color of the shirt. It's a delicious, soft cotton, well stitched. I've worn it both alone and open with a cami underneath. The arms are on the long side, which I like because I'm tall. Nicely made.
Date published: 2015-08-04
Rated

5

out of

5
by
ClassyChick
from
Worth every penny!
This shirt fit exactly like the size 4 boy shirts at J.Crew Retail. It is thinner than the ones at J. Crew. It is beautiful in person. I have received a ton of compliments!
Date published: 2015-11-05
Rated

5

out of

5
by
CHudge
from
Great Fall Plaid
Perfect fall plaid shirt. Great lightweight material. The color pattern is perfect because it goes with both blacks and navys. I ordered a medium and found it true to size.
Date published: 2016-11-15
Rated

4

out of

5
by
in2sports
from
med to large
i purchased a medium and it seemed to run a little small, so i gave it as a gift....i then purchased a large because i liked it so much....the large still seemed a little snug for a large. it didnt seem like there was a big difference in the size except for the sleeves were longer...of course i kept it because i love anything jcrew....
Date published: 2015-11-23
Rated

3

out of

5
by
PhDPrep
from
Paper Thin
I will keep this because I got it for over 50% off during the anniversary sale, but this is definitely not worth the price tag. It is EXTREMELY thin. When I pulled it out of the package and held it up I could see objects through the other side - through both sides, two pieces of material! This was surprising to me considering it is a dark color. Disappointed, because the flannels have been great quality this year.
Date published: 2016-10-13
Rated

1

out of

5
by
MrsB
from
Thin as tissue paper
I love the print of this shirt... I actually owned the retail version but it was a little tight in the arms, which is why I gave it away and bought this one. I just received it in the mail and was shocked when I opened the package. I can actually see through the shirt! It is so thin I cannot even believe it- especially for this price. I feel stuck because I love the print so much and I gave my other one away thinking that this version would be comparable. It is not! For winter I will definitely have to wear a long sleeve shirt under it just to make it bearable to wear. Very unhappy with the quality.
Date published: 2016-11-12
Rated

4

out of

5
by
jess
from
Decent.
Nice lightweight shirt for casual end of summer days. It's a thin material so I layer it with a tank. It's a little snug, but fits well overall.
Date published: 2015-09-03
Rated

4

out of

5
by
Delilah
from
Love the Colors and Style, Hope It Lasts
I bought this shirt in an orange/blue combo and I love the colors. The fit is true-to-size. The fabric feels cheap for the price, however--very thin cotton. I decided to keep it, but I'm not sure it will last.
Date published: 2016-03-13
Rated

1

out of

5
by
stylebunny
from
GROSSLY MIS-SIZED
I am a size 14 in all of my J.crew & Factory tops. I have tons of clothes from this brand. This shirt is either grossly mis-sized, or sized to fit like a "junior's" top. I am not even able to close it around my breast area. What a dishonest and misleading way to sell clothes to women (... and have the gall to label them final sale). J. crew & Factory YOU full well know the sizes are "GROSSLY" mis-represented.
Date published: 2016-10-17
Rated

5

out of

5
by
Melissa
from
Love this!
Love this! It's very thin and more or a dressy plaid shirt to me. It's fitted and looks cute with dark jeans or black skinny pants. It will be perfect for the holiday season too!
Date published: 2015-11-23
Rated

5

out of

5
by
Jenny
from
Absolute essential for comfort
I have two of these shirts in different colors. Not only are they well-cut and stylish, these shirts are super-comfortable! Love them and will purchase a couple more!
Date published: 2017-03-13
Rated

5

out of

5
by
RHonda
from
Mad for Plaid
I love this shirt. It's lightweight, and I can wear it untucked with or without a lacey cami underneath, It is fitted through the back - no gapes when buttoning. I like the color pattern - can wear with black jeans and boots, or a black mini and tights. Looks great with my puffer vest. Perfect for Texas weather :)
Date published: 2017-02-22
Rated

5

out of

5
by
Isabellatralala
from
Perfect shirt
This shirt is absolutly perfect and very confortable! The color is very nice.
Date published: 2017-02-17
Rated

5

out of

5
by
luten1ja
from
Great shirt!
Love this plaid shirt! It is great for work ot casual wear and can be easily dressed up or down. Lightweight fabric makes it easy to layer!
Date published: 2017-01-23
Rated

5

out of

5
by
Abs1604
from
Perfect Gift
Picked this out for my sister as a gift- she loved it and it was perfectly tailored for her small frame. The length is a little long- which she loved, because she wore it underneath a sweater and wanted it to show.
Date published: 2017-01-07
Rated

5

out of

5
by
Skwilly
from
Winter plaid
This shirt fit true to size and is a wonderful plaid for winter. Can be dressed up or go more casual. Just what I was looking for.
Date published: 2017-01-02
Rated

5

out of

5
by
Luvjcrew
from
Perfect for layering
I purchased this shirt In the black size x-small. I'm 5'7 and 125 pounds. I love it. It is a very thin fabric, but I like to layer it with a tank underneath and the printed quilted puffer vest in black. I typically wear it untucked with black leggings and my favorite black riding boots. I also like to wear the layered circle necklace with this outfit.
Date published: 2016-12-28
Rated

5

out of

5
by
Katie
from
Great Holiday Plaid
The perfect fit plaid shirt is classic yet modern. Looks great casual or for going out. My favorite is pairing it with a great statement necklace and some shimmery eye shadow !
Date published: 2016-12-13
Rated

5

out of

5
by
Sewfrench
from
Perfect is right!
Perfect sizing and I LOVE that this is a thinner shirt making it perfect for layering under sweaters! Could not be happier with this purchase! I bought the green/navy plaid and it is a nice change from all the red plaid of the holiday season. If I didn't already have two red plaids I would be buying the red one as well!
Date published: 2016-12-10
Rated

5

out of

5
by
Hershey2015
from
Great Shirt
Love this shirt, so comfy and versatile, dress it up or down. Nice for a holiday look with the red Caryn cardigan.
Date published: 2016-11-09
Rated

5

out of

5
by
Rose
from
Perfect shirt and fantastic colors
This shirt is the classic button down Beautiful cotton and very well made. What makes this shirt stand out are the beautiful teal colors in the plaid. I would highly recommend this classic plaid shirt to anyone loving the color teal
Date published: 2016-01-21