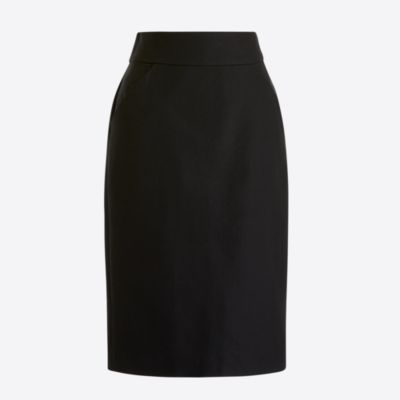 Product Details
Cotton.
Sits at waist.
21 1/2" long.
Back zip.
Back vent.
Dry clean.
Online exclusive.
Import.
Pencil skirt in double-serge cotton
Pencil skirt in double-serge cotton
is rated out of
5
by
69
.
Rated

5

out of

5
by
shar
from
Love this skirt
Skirt fits well, good for travel, nice length. A winner
Date published: 2015-06-18
Rated

5

out of

5
by
Kape
from
Can't have too many
I own this skirt in several colors and have been very pleased with them. They work well to either tuck in a shirt or let it hang out. I like that the skirt is not so tight. It fits nicely and works well for any occasion. Great choice!
Date published: 2015-06-04
Rated

5

out of

5
by
ksheridan
from
Great work staple
I love this skirt! I got it in cream and it goes great with so many things already in my closet. If you work in a business casual setting, this is a must have. Super comfy and looks very professional. Sits high waisted and runs true to size but a little big. Great for summer and spring!
Date published: 2015-05-20
Rated

5

out of

5
by
Preppy
from
Perfect pencil
This skirt is a perfect fit. True navy color and super quality for the price. I have 2 colors already and will be buying more in other colors!
Date published: 2015-05-06
Rated

4

out of

5
by
minniejcrew
from
Dry clean only, but worth the expense
I am giving this three stars. I purchased it in Aqua and it is beautiful and the shade is exactly the same as pictured online. I purchased it in a 00, and even then, it runs slightly big. I am 5'5" and about 112 lbs. So, not your typical 00, but the way the sizing is, I have to size way down. The fabric is very nice. It does not, however, have much give to it at all. It is a bit stiff in that regard. It is dry clean only, but I feel as though the pros -- gorgeous color, lovely tailoring and perfect length -- outweigh this con.
Date published: 2016-03-29
Rated

3

out of

5
by
Tallgirl
from
Hem problems!
I've purchased several J Crew pencil skirts because the fit is reliable (I find my J Crew size matches other comparable brands very well, and is consistent among J Crew styles) and the material, especially in the wool pencil skirts, is thick and good quality. Also, the stitching at the waist and seems durable and well-done. However-- I have now purchased THREE cotton pencil skirts in which the bottom hem stitch has come completely undone the second time I wore them!! VERY disappointing, so I do not recommend the cotton skirts.
Date published: 2017-02-26
Rated

3

out of

5
by
EmilyR
from
A Big Snug
As a personal preference, I like a bit of give to my pencil skirts for more comfort. This skirt was a beautiful color and shape! Very sad to return it, but I just wasn't all that comfortable, especially if you have to walk a bunch.
Date published: 2016-08-10
Rated

3

out of

5
by
small
from
runs small
I have this same skirt in 3 different colors and the one I most recently purchased was smaller than the other ones. Sent it back since it was too small.
Date published: 2016-04-27
Rated

3

out of

5
by
Sarah
from
Beautiful but wrinkly
The teal color is BEAUTIFUL and I got lots of comliments on it. The issue with the skirt is that it is a wrinkly mess after you sit down. I will need to buy some wrinkle release before buying it again.
Date published: 2015-05-28
Rated

2

out of

5
by
me2017
from
Not lined
I wish I would've read the reviews before buying. I assumed the skirt would be lined because most professional pencil skirts are. I wore this with tights and the skirt kept bunching and riding up. It was very uncomfortable and I definitely did not look professional walking around pulling down my skirt.
Date published: 2017-01-17
Rated

2

out of

5
by
Maggie
from
Loses its shape
This skirt was stretched out and wrinkled within 20 minutes of wearing it. It is clearly made of low quality materials and I do not think it warrants the price. I wish I hadn't taken the tag off so I could return it.
Date published: 2015-05-28
Rated

1

out of

5
by
RBock
from
NO lining =wrinkles that look like you slept in it
This skirt is cotton--not some blend of wool, polyester, or some other forgiving, less wrinkly fabric. And, there's no lining to protect you from wrinkles...so after a car ride or train ride to work, the top "sitty" part will look like one of those accordion-folded Chinese lanterns. Nothing will save you--not a hot iron, not spray starch, not a good dry cleaning--the next time you wear it, you'll get the same effect.
Date published: 2016-10-22
Rated

1

out of

5
by
ecgill
from
Seams fall apart! Poor Quality
I want to love this skirt - It's a great basic for work, fit is great, and it comes in a variety of cute colors. I have bought 2 of these skirts and in BOTH, the bottom seam of the skirt fell out, which caused the hem to hang. Basically the bottom of the skirt is flap folded under and stitched and when the stitching came out so did the flap. This happened after ONE WASH. It is unwearable unless I get it sewed. I would not expect this from jcrew - a company that promises quality clothing. I am disappointed and frustrated, because I when I purchase clothing, especially from JCrew, I hope to get more than one or two wears out of them.
Date published: 2016-08-04
Rated

1

out of

5
by
ZoeLaurel
from
Falling apart. At work.
Dear J Crew Factory: I gotta get back to work, but I wanted to let you know this cheap skirt is falling apart while I sit here. The zipper is detaching from the skirt so everyone can see my butt. Your cheap clothes and I are officially done. Never. Again.
Date published: 2016-04-14
Rated

1

out of

5
by
Mandy
from
Disappointed
Pros: perfect length for work, nice color Cons: fabric looks cheap, wrinkle easily, not LINED!!! I wish I could return it, but I already took off the tags.
Date published: 2016-03-23
Rated

2

out of

5
by
deedeeod
from
wanted to love
I was so excited when I bought this skirt. I really needed a navy pencil skirt and I have looking for the perfect one for the last two years. Well this isn't it. It is true to size and seems to fit good when you first put it on and for the pockets I am a sucker for anything that has pockets, BUT as soon as I sat down the skirt wrinkled horribly. I work in a professional environment and I do not want to walk around the office all day with a huge wrinkle across the front of the skirt from where I sat not to mention that the skirt isn't even lined. So this will be going back and I will still be searching for the perfect navy pencil skirt for this is not the one.
Date published: 2015-05-08
Rated

4

out of

5
by
JenC
from
Be wary of vanity sizing
I've had multiples of this skirt over the years, so I was excited to order this in the natural color. I got the exact same size that my previous skirts are, but I am swimming in it. When I hold them up to each other, you can clearly see how much bigger the new one is. I can't review the quality of this item in particular because I'll be sending it back, but I will say that the previous version I have has held up well. It is a nice basic pencil skirt, but I love that it has pockets that are strategically placed into the seaming and pleats so they don't ruin the overall shape. Overall, I do like this skirt, but I am disappointed with the inconsistent sizing.
Date published: 2015-05-13
Rated

5

out of

5
by
mprufrock
from
Nice fit and color
Got this in the powder blue, size 4. I think it looks great, though it seems to wrinkle a bit while moving around. I'm 5'9, 152 lbs with an athletic build and this hits me right above the knee. However: J. Crew must have started vanity sizing recently, because I have older stuff from them (pants, mainly) which fit me perfectly at a size 8. I held this up to my other skirts, both size 6 and ann taylor vintage/ antonio melani and this is definitely bigger in the waist. FYI, the measurements for this size 4 skirt, unstretched, are 29" in the waist and 37" in the hip.
Date published: 2016-02-24
Rated

4

out of

5
by
Postgrad
from
Great for work but the vanity sizing is ridiculous
I have 4 of these skirts and am definitely a fan. The quality isn't the most amazing thing out there, but for a business casual office, it's perfect. I can throw it on with almost any top and boom, I look professional and cute enough to bring the look into happy hour. My main bone to pick is the sizing- I am 5'4" 135 lbs and athletic. Usually I am a size 6 in most stores, maybe a 4 depending on the place, but I have to buy a 0 in these skirts. I tried a 2 and it was literally too baggy. I would definitely recommend that you go to a store and try on a skirt to make sure you're ordering the right size. Once you've got the size down, go crazy!
Date published: 2015-05-29
Rated

5

out of

5
by
FrequentShopper
from
The Search Is Over
I move a lot of boxes at my job but also need to look nice so it had been hard finding a good looking pencil skirt for not too much money. When this went on sale I gave it a try and am very pleased with it. It has pockets, looks crisp, isn't hot, and wasn't destroyed by the demands of my job.
Date published: 2015-06-11
Rated

2

out of

5
by
Tamster
from
Love the way it looks but there's no liner
This skirt would be perfect, if only it was lined. If you wear nylons at work, then the skirt begins to bunch up between your legs when you walk because of the lack of lining and the fabric catches on your nylons. It results with me having to pull the skirt down straight every few steps. Unfortunately, I won't be wearing this anymore because of it.
Date published: 2015-10-29
Rated

5

out of

5
by
Dotty
from
PERFECT PENCIL
LOVE this skirt! I have it in 3 colors, and I plan on getting it in every color! And I still love my dotty pencil from a few years ago!
Date published: 2015-06-07
Rated

2

out of

5
by
OnlySkirtsForMe
from
!!Quality Lacking!!
I previously gave this skirt a good review and even purchased another. However, I must change my position. I have washed them both maybe three or four times. The hem came out on both skirts. There is literally once piece of thread (trying) to keep the hem attached to the skirt. I understand this is JCREW Factory but I still expect better than that. Regardless of the price, I will not buy another of these skirts. Taking it to be professionally hemmed is not something that I should need to do for ANY item from JCREW or JCREW factory. What happened to the quality you all used to stand for? They fit true to size but do stretch out a bit after wearing as there is no elastic material to help maintain the shape.
Date published: 2016-08-20
Rated

5

out of

5
by
MJMJ
from
Pretty Perfect
J. Crew pencil skirts are probably my favorite thing they sell, they are pretty near perfect in my eyes and this is no exception. I got the brilliant aqua which is gorgeous and the quality is beautiful. Only problem is that I ordered it in Petite by mistake and it doesn't fit me, too small which is odd because it's the size I always wear in J. Crew skirts. I didn't realize this until I just tried it on and couldn't believe it was too small, then I saw that the size was Petite instead of Regular. Non returnable which is too bad because this skirt knocks it out of the park!
Date published: 2016-08-07
Rated

5

out of

5
by
Kayy
from
Favorite pencil skirt
Love this pencil skirt! I bought it in a royal blue color a year or two ago and am buying more colors since they're on sale! The fabric is thicker than other pencil skirts (which is a good thing) and the seams are placed where it doesn't really need a liner. Awesome. Please make more colors. :) On a side note, most of the Factory stores I've been in have these in a bunch of colors, but the Orlando Premium store did not have any. :(
Date published: 2015-05-23
Rated

5

out of

5
by
Ashley
from
Pencil me in...
This pencil skirt is great for office hours and happy hours! It will easily impress your coworkers and friends with prestige style, comfort, and affordability.
Date published: 2015-04-28
Rated

4

out of

5
by
annieb57
from
Good but not great
The color is gorgeous, the length is work appropriate, and the fit is perfect for either tucking in or wearing shirts over the skirt. My issue was the fabric. I hate materials that noticeably wrinkle after you've been sitting in them for a few hours. And we're not talking 'it no longer looks pressed and perfect'. The skirt had visible-from-across-the-room creases where the fabric did not lay perfectly flat when sitting. If not for that, it would be great.
Date published: 2016-04-05
Rated

5

out of

5
by
Lizzy
from
Pencil Skirt
LOVE! The seaming on the back makes my butt look awesome!
Date published: 2017-04-13
Rated

5

out of

5
by
aamd
from
Perfect for Curvier Girls
Super excited that they made a summer version of this skirt. It's definitely a curvier cut than some pencil/straight skirts out there, which seem to be literally straight cut (especially the ones without a defined inset waistband), regardless of what the size chart says. The colors are great, and the material is substantial, but light. I also really like the fact that the summer cotton version is unlined, which means that you actually get to take advantage of the fabric's breathability.
Date published: 2017-04-04
Rated

5

out of

5
by
Sunny
from
Love this skirt!
I have never found a skirt that fits me perfectly, until this one. Elegant, simple and comfortable. It is the perfect skirt!
Date published: 2017-03-31