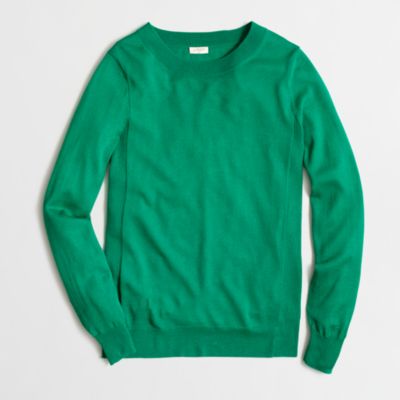 Product Details
Merino wool/acrylic.
Hits at hip.
Long sleeves.
Machine wash.
Import.
Sawyer sweater
is rated out of
5
by
56
.
Rated

5

out of

5
by
Designgirl516
from
Best Sweater Ever
I want one in every color. Perfect weight for layering.
Date published: 2015-11-17
Rated

5

out of

5
by
TLuv
from
Great Basic
Great basic sweater. Like most J.Crew clothes, it runs a little large but that makes it extra comfortable!
Date published: 2015-11-15
Rated

5

out of

5
by
catiepat11
from
Perfect lightweight sweater
I LOVE this sweater! So much so that I own it in every color that they make! It is lightweight, which makes it perfect for layering without over heating. Length is good and fit is true to size. Getting them on sale is even better! I plan on ordering a few extra in the neutral colors and adding sequined elbow patches and such. My favorite color is vibrant fuchsia, its SUPER bright pink which I love!
Date published: 2015-11-14
Rated

5

out of

5
by
Gaby
from
Nice Bright Sweater
This is a nice classic sweater that works well for work. I picked the hot pink and while it's very bright, it is a really pretty shade. I would definitely purchase this in more colors.
Date published: 2015-11-04
Rated

5

out of

5
by
Kitty
from
Soft, light and warm
I'm 6 ft and normally a size large and this fits true to size. The quality seems nice and the fit is great - not too baggy and the length is also right at the hip. Not sure about the other negative reviews!
Date published: 2015-10-23
Rated

5

out of

5
by
RyRy13
from
Great sweater for the price
I'm a pretty picky person when it comes to clothing, but this sweater actually surpassed my expectations considering some of the negative comments on here. I got an XXS thinking it would be tight, but while the sleeves adhered nicely to my arms, the body was a little loose. For reference, I am 5'8" and a 30d-25-35. It looks nice with a belted skirt or tucked into a pair of pants for work. The bottom at about mid-hip level. Just a great basic sweater for a reasonable price. I got this in black and the lighter blue- sparkling sea. My only complaint would be that the blue sweater is not the same color as it appears online- it's actually a lot darker/duller. Would probably not have bought the blue sweater if I saw it in person, but I'm definitely stocking up on the other colors.
Date published: 2015-10-22
Rated

5

out of

5
by
FaithBav
from
Perfect Laying Piece
This is a perfect layering piece. It's almost sheer, so you'll need a cami or button down to wear under it. It's very soft and the ribbing down the sides is a nice detail. I didn't have any fit issues at the armpit (see other review), but I am a 32B, so this sweater may work better for the less busty.
Date published: 2015-09-25
Rated

5

out of

5
by
FactoryFiend
from
Fantastic find!
I'm pretty baffled by the bad reviews. I love this sweater. The price point is right, runs TTS, the colors are fantastic for fall, it's perfect for work, but casual enough to dress down. I can't say a single bad thing about this sweater. I love it. Buying in multiple colors!
Date published: 2015-09-16
Rated

4

out of

5
by
StephN
from
Lightweight sweater
I have this sweater in a couple of different colors: white, maroon, and light blue. The lighter colors are very sheer and you definitely need to wear a tank top under them at a minimum. But the nice thing about how lightweight they are is that they make a great layering piece over a button down or collared blouse without adding a lot of bulk. The neckline is somewhere between crew neck and scoopneck. I found the sleeves to be plenty long, which can be a challenge. I have been washing on cold and then drying in the dryer on extra low, and so far they are all in good shape (the tag says lay flat to dry). The fabric is not super soft, but it hasn't irritated my skin. I usually wear a size small in JCrew Factory tops (I find most run large), and debated sizing up so that I could layer (I'm 5'9" and 150 lbs). I wound up going with a small and I'm glad that I did - it's plenty roomy in the chest and waist for a shirt underneath. I'd size down if you want a slimmer fit.
Date published: 2016-01-08
Rated

4

out of

5
by
bluesteyesmom
from
Nice layering sweater
I ordered this sweater in the black and cream colors. They're lightweight and great for layering. I typically wear a small in Factory tops, and these were no different. Because it's so lightweight, the cream sweater is pretty transparent, so a cami is needed underneath.
Date published: 2015-09-27
Rated

4

out of

5
by
Melissa
from
just right
This is a great ease-into-fall sweater. It's thin and slightly oversized, making it a great layering piece. I have it in coral and am looking to purchase it in a few other colors before the season is done
Date published: 2015-09-07
Rated

3

out of

5
by
KDub
from
See-through sweater
I got this in ivory and the fit was ok, but the quality was not. Very thin and transparent. To not be charged with indecent exposure, I'd have to wear a camisole underneath, which is not a great look. Great "sweater" for an exhibitionist perhaps. Waste of money for me.
Date published: 2016-02-26
Rated

2

out of

5
by
Samv
from
Poor Quality
I wore this sweater once and a small hole appeared out of nowhere. I cannot get over the consistent decline in the quality of both J.Crew Factory and J.Crew. The material is incredibly thin and more appropriate for early spring. The length is nice, but otherwise, waste of money.
Date published: 2015-12-31
Rated

2

out of

5
by
JustGetThe4
from
Transparent with odd fit
I ordered the ivory sweater in a small. I normally fit very well into a size small at J.Crew Factory and was baffled to find that the sweater was large in all the wrong places and was much more transparent than I thought it would be. It's a decently comfortable sweater, but that's all it has going for it. Perhaps it would be better in a different color but the combination of it being ivory, transparent, and large in the middle was very off.
Date published: 2015-10-01
Rated

5

out of

5
by
beantownchic
from
Great base-layers. Some notes re: color though....
Be aware - all product shots of this sweater have been calibrated with more yellow/orange (less cyan) in the photos than the physical sweaters show. I ordered 4 - black, cream, wildflower pink and vibrant fuchsia. Wildflower pink is really a peachey coral. (Identical to a guazy summer scarf I have, so I love it!) My ipad, laptop and desktop all show this sweater looking more orange than in-reality peach. The same goes for the vibrant fuchsia. It may look like a mellow pink online, but it has a ton of blue in the color. It almost popped out of the bag as neon, vs. the mellow mid-range pink the product photo showed. Ditto for the cream... looks yellowish online and pretty close to winter white in person. Great sweaters though. Fuchsia's going back. 3 out of 4 I love! Hope this helps!
Date published: 2015-09-28
Rated

2

out of

5
by
KateCapprico
from
Poorly Made
I was very disappointed in this sweater. It feels cheap, it's see through and the fabric is not very soft. The neckline is odd as well, it's not really a normal sweater neckline, but not really scoop neck either. I sent it back.
Date published: 2015-09-04
Rated

1

out of

5
by
CorgiLover
from
Hole in new sweater
Ordered the sweater in pink, was disappointed to find a hole near the bottom! I also couldn't tell from the website that there is vertical ribbing on the sides, not a fan of that, kind of cheapens the look. It's a bummer since I like the assortment of colors and the lightweight material.
Date published: 2015-09-11
Rated

5

out of

5
by
ljojlo
from
Ran a bit big for me...
So the sweater is a light knit, you are definitely going to use it to layer. I have other JCF sweaters in a S, but this one was swimming on me. I am thinking the XS will be a better bet. That being said, the length in the arms and the rich color of the black I bought was just what I wanted. Nothing says fall like a sweater and some slacks!
Date published: 2015-10-09
Rated

2

out of

5
by
Nina
from
Poorly made!
Pretty wine color but cheaply made and odd fitting. Will be sending back ASAP!
Date published: 2015-09-07
Rated

2

out of

5
by
lbesprit
from
Odd fit
This sweater ran very large and fit oddly in the neckline and armpit area. Definitely not worth keeping, though the color I got (warm mineral) was beautiful.
Date published: 2015-09-12
Rated

5

out of

5
by
Kayla
from
The Perfect Transitional Sweater
I cannot say enough good things about this sweater. I bought it in four colors! Every time it went on sale, I just couldn't say no! It is the perfect weight for fall into winter. I bought my normal size XS in tops and it fits perfectly.
Date published: 2016-03-30
Rated

5

out of

5
by
Whitleigh
from
Perfect for Spring!
I purchased this sweater in coral and have received numerous compliments on it. It's a perfect layering sweater which is great for Georgia weather. It is a little sheer so I would suggest wearing a tank top underneath it. I love this purchase and will buy more in other colors!!
Date published: 2016-02-02
Rated

5

out of

5
by
l0548
from
i love this sweater
I bought the black in a small and wore it for like 3 weeks straight. Not exaggerating, it was actually almost every other day and all weekends for a few weeks. I love it, not too form fitting but still sleek, the neckline isn't a choke-me crewneck, it gives you a little space but its not a flappy boatneck. There's a bit of stretch, a bit of warmth, but its not bulky. I then bought another black (at the rate I'm going it'll be worn out soon), plus navy and grey. I don't like bright colors so I wish they had more dark blues/dark turquoise/near-neutrals, so I could buy more! highly recommended! reference: I'm 5'9" 140 lbs, usually a S/M (6-8) and I bought this in a S and it fits perfectly.
Date published: 2016-01-26
Rated

5

out of

5
by
CMJORDAN
from
Perfect Wardrobe Staple
Love this sweater - have it in multiple colors. Classic, lightweight
Date published: 2016-01-25
Rated

5

out of

5
by
PickyShopperGirl1
from
Next best thing to Cashmere
Very nice quality. The color was as pictured. It has a shape flattering fit. Very soft to the touch. Has not lost its shape after wearing 3 times. I am surprised by the bad reviews as this has become my favorite sweater.
Date published: 2016-01-20
Rated

5

out of

5
by
DMS327
from
Classic style with beautiful color
I had a hard time finding brighter colored sweaters this year. This one fits the bill. It's lightweight so you should put a cami or a button down under. It would work with jeans, dress pants or under a suit jacket. If you want to layer under or don't like a skin tight fit, get your regular size. If you like it tight or want to put a jacket over, I would size down and it will be nice and fitted. Tall torsos beware. I have a long torso and it just hits above my hip. Will work with flare/bootcut jeans and dress pants but not skinnies.
Date published: 2016-01-06
Rated

5

out of

5
by
Teresa
from
Comfortable Classic
I love this lightweight sweater. It is a staple in my work-wear closet. I have it in many colors---tan, black, 2 navy, green, gray---I just received the burgundy color which is gorgeous. I had tried to get it last year in a 3/4 sleeve, but it was sold out. It's perfect! Looks great with dress pants, pencil skirts, even jeans.
Date published: 2015-12-30
Rated

5

out of

5
by
Jenna
from
Love the color
The green is just as bright as it looks in the photos. The material is a bit thin so it's not a winter sweater. As the trend is toward larger-fitting tops right now, this sweater is slightly wider than what I've ordered in the past.
Date published: 2015-12-30
Rated

5

out of

5
by
Geege
from
We just keep ordering them!
I now have 4 of these in different colors. Perfect for layering as the sweater isn't thick and heavy. Material is soft, not itchy and the fit is great!
Date published: 2015-12-28
Rated

5

out of

5
by
sdholder
from
Great Lightweight Sweater
Beautiful color. I like that it is very lightweight and amenable to layering. Got lots of compliments when I wore it to work.
Date published: 2015-12-16