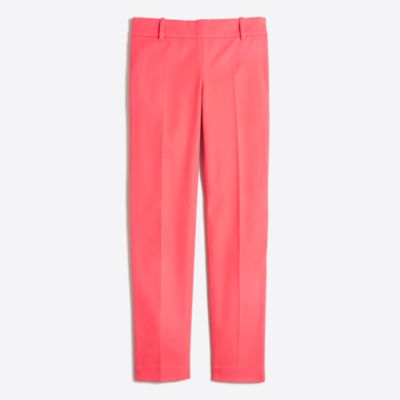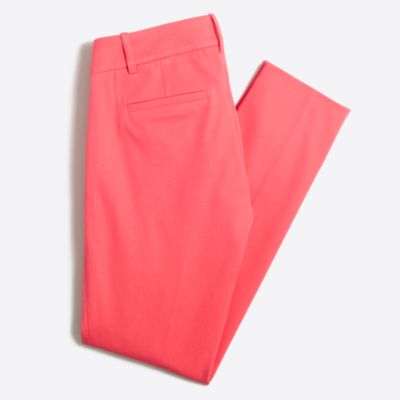 Product Details
Cotton/spandex.
Sits just below waist.
Fitted through hip and thigh, with a skinny, ankle-length leg.
26" inseam.
Side zip.
Nonfunctional back pockets.
Dry clean.
Import.
Winnie pant in stretch twill
Winnie pant in stretch twill
is rated out of
5
by
126
.
Rated

5

out of

5
by
lovejcrewfactory
from
Great for teachers!
Being a teacher I am up and down all day and these pants have just the right amount of stretch. They are stylish enough that I can go out after work and still feel that I look nice!
Date published: 2015-12-12
Rated

5

out of

5
by
Wodehouse
from
Best Pant Ever
These pants are great, they are both flattering and comfortable, a win win! I am 5'2 and 120 lbs and the size 2 fits perfectly. The fabric stretches with your movement but doesn't stretch out, and the colors are vibrant. I bought the navy and have been living in them so I will be buying two more colors!!
Date published: 2015-10-19
Rated

5

out of

5
by
JLDubs
from
Versatile Cropped Work Pant
I ordered these pants for work, and have reordered them in several colors because they are so comfortable and versatile. The side-zip is very flattering and lays nicely, and the pants hit at a perfect spot above the ankle (I am 5'7" and ordered a sz 6). They are tight but not skin-tight in the rear, so you don't have to stress about the dreaded Visible Panty Line. After about 2 years of wearing & machine wash/hang dry, I got a hole by the zipper. Probably could've been prevented with dry cleaning, but hey, 2 years is still a pretty good lifespan on a pair of pants I wear at LEAST once a week, if not more. 100+ wears.
Date published: 2015-09-03
Rated

5

out of

5
by
gradgal
from
Perfect black ankle pant
I've been eyeing this for a while... and SO happy I finally bought it!! I'm on the border of petite but ordered my regular size in regular fit and it's perfectly slim in the leg and hits just above my ankle. I LIVE in black pants but the Gigi pant was too hot for the summer, and a bit too skinny for wearing with flats. This does the trick. I feel like Audrey Hepburn wearing these with pointed flats. I ordered 2 more within minutes of the first pair arriving at my house!
Date published: 2015-07-01
Rated

5

out of

5
by
RVApeony
from
Classic pant
These pants are easy to wear and flattering. I bought these about six years ago in almost every color. I have since gone up a size or two over the years, and recently re-purchased them in a few colors in my new size. It is hard to imagine my wardrobe without these. I am a short gal with full hips. The cropped leg gives my legs a longer look, and the higher rise fit completes the look. I would recommend ordering the smaller size if you tend to fit into two different sizes as these do stretch some.
Date published: 2015-06-08
Rated

5

out of

5
by
kellyatl
from
Comfortable pants, works for work
I ordered this for work. They look great with flats and the coral color is a nice pop. I'm 5'10, 165lbs and the size 10 fits perfectly.
Date published: 2015-06-01
Rated

5

out of

5
by
Nick
from
Awesome
Finally a pant that fits me perfectly. Normally, it's either too tight at the waste and baggy everywhere else or good on top...and still baggy all around. These fit me perfectly. I wear a 6 with J.Crew and I found these to be TTS. Love the stretch - for those happy hour days when I need it. Great pants, please keep making pants like this!
Date published: 2015-05-14
Rated

5

out of

5
by
Molly
from
Perfect Pants!!!
I bought this pants and I love them...Navy is perfect for all my tops (I have a Nautical theme problem) I bought a backup navy because I'm using them every week I also got black and Bohemian print...I just love them and I'll buy every color because they're perfect for work or more dressy look and super comfy...Definitely my favorite pants!!!!
Date published: 2015-04-28
Rated

5

out of

5
by
Sophie
from
Great fit, great price
I have been wearing the J.Crew "Minnie" pant for years - it's a staple in my wear-to-work wardrobe! I was happily surprised to find that the Winnie pant (the J.Crew Factory version of my favorite Minnies) fits just as well and feel just as high quality. I will be back for more!
Date published: 2015-04-26
Rated

5

out of

5
by
christinaesq
from
perfect slim pants
the perfect slim black pants for work, im going to buy a backup pair since ive already been wearing them weekly since purchasing!
Date published: 2015-04-08
Rated

4

out of

5
by
neprep
from
Comfy work pants
I love the style of these pants, it's almost like wearing leggings to work. I own multiple pairs of the winnie pants in multiple colors. The biggest issue is the poor quality, if you can buy them on sale for <$35, it's not too bad, but the seams on all of my pants seem to keep falling apart. On one pair, it's the hem, another it's the seam on the calf and another is the zipper area on the hip. Overall, I'm not super impressed but I haven't found another pair that fits as well for a similar price.
Date published: 2016-12-15
Rated

4

out of

5
by
Jess
from
Great everyday work pants
These pants are very comfortable and great for work. They look great with a pair of flats. They do tend to pick up lint and that is a bit of a pain when wearing certain shirts or jackets. Otherwise I love these pants. I wish they came in more colors like a grey color.
Date published: 2016-10-30
Rated

4

out of

5
by
lindsey892
from
Very Cute and What I was looking for
I have these in blue and black. The material is thick enough for work, and they are easy to wear. The fit is good - but I am a little concerned with how much they stretch during the day. I wish these were machine washable because I want to just throw them in the washer/dryer when they bag out after a wearing. They are also just a tad too long/wide at the bottoms, but I roll them under a little and they are fine - can't even tell. I will likely buy the other two colors, but wish they were just a little different.
Date published: 2016-04-21
Rated

4

out of

5
by
MBM789
from
Cute Pants, Run Slightly Tight/Small
The Winnie pant has a pretty cute fit, but they are fairly tight (keep in mind if you want to wear them to work). I initially ordered a Size 8, and they zipped but were so tight that I exchanged them for a 10, which fit fairly well. The pants also hit mid-rise, below the belly button, right on the hip. The vibrant flame color is as pictured.
Date published: 2016-03-09
Rated

4

out of

5
by
Sara
from
Spring or fall pant
I bought these because I love the Danni pant but can't find it anymore. These fit quite well but I personally think they run a little bit large; they fit perfect in the store but after wearing them for a couple of hours, the waist does stretch a bit. I love the cut and length of them; they hit just above the ankle on me (5'4"), which make them perfect for fall or spring, in my opinion. I purchased these in the autumn crimson color and love it; it goes perfectly with neutrals but also can be played up with another bright color. Overall, a good investment and staple piece. The only reason I rated them a 4 instead of 5 is because they are dry-clean only, which is a bit of a pain but not enough to stop me from purchasing.
Date published: 2015-09-23
Rated

4

out of

5
by
BBonan
from
Finally JCrew Pants that don't stretch out
These pants have been great so far. I have only worn them a few times but they son't stretch out throughout the day like every other pair of JCrew pants I have tried. I wear them to work with a cute top and either heels or flats. These are flattering and overall true to size. I am 5'5", 132lbs and the size 4 is great.
Date published: 2015-09-15
Rated

4

out of

5
by
MollyM
from
Cute and classy
I just started a new job so I have been looking for office appropriate pants that don't look frumpy and are affordable (I'm still in my early 20s). I decided to try these, and I'm glad I did. The pinot color is gorgeous. They are definitely an "ankle" length pant. I don't have a particularly long inseam (about 28 inches) and these hit about 2 inches above my ankle. If you are petite, a regular size would probably work as a full length pant on you. I thought they were a teeny bit tight when I first put them on but after walking around my house getting ready for work they relaxed a bit. Still a bit of a visible panty line situation going on with them, but with the right pair of underwear that's not really a problem. I am 5'6", 110 lbs with runner's thighs, slim hips, and I got the 00 regular. 0 would have fit a little more relaxed overall if you would rather have a less-tight look
Date published: 2015-07-23
Rated

4

out of

5
by
ladyboss
from
Perfect Summer Work Pants
Great fit, wish they didn't have to be dry cleaned.
Date published: 2015-06-19
Rated

3

out of

5
by
APSESQ
from
Quality has decreased!
I bought several pairs of these pants 2-3 years ago, and I LOVED them. I purchased 3 more pairs within the last 3-4 months, and the quality has decreased significantly. My older pairs are soft and fit perfectly. The new ones are stiff, fit much tighter, and one pair has already developed a hole. I am very disappointed with them.
Date published: 2017-03-15
Rated

3

out of

5
by
Sarah
from
Holy See-Through Pants, Batman!
I ordered these pants in Belvedere red, and the red is true to the color I saw on the screen - a very fun, vibrant pop of color that would be great to add to any otherwise neutral outfit except ... wow are these see-through. As another reviewer mentioned, there's no liner - which is something I wouldn't expect J. Crew/J. Crew Factory to overlook, let alone flat-out decide isn't necessary. With darker colors, this might be OK, but - without trying to share too much information - in the red, you can see every bump/ripple/dimple/etc. when you turn around. And for the record, I'm in good athletic shape and "squats for days" have my bum in very good condition. Because I bought these on final sale, I'll have to hold onto them and try out bum-covering tunic-length tops. FYI: measurements= 5'7", 140lbs, 36"/28"/38" and the size 6 fits perfect.
Date published: 2017-03-03
Rated

3

out of

5
by
Becky
from
Stretches out too much
Upon first wear, these pants look KILLER. But within a few hours they become very stretched out and baggy on me in the crotch and thigh area, which is obviously not a good look. Bottom line, too stretchy. I got these on sale so i took a chance and hand washed them/put them in the dryer hoping to shrink them a bit (as opposed to dry clean instructions) but they remain stretched out.
Date published: 2017-01-06
Rated

3

out of

5
by
Luluchic
from
Good - not great
As another reviewer said, these pants are not the greatest quality. They are rather thin and stretch out quite a bit over the course of a 9 hour work day so much so that they become embarassingly baggy. I won't buy another pair. Style is great but they need to be thicker and perhaps have more stretch. I also am not fond of the side zipper and would prefer it in the front. Belt loops would also be nice. For reference - 5'4" and 125 lbs and I purchased a size 4. Could have gone with the 2 since they stretch out so much.
Date published: 2016-10-28
Rated

3

out of

5
by
Erin
from
Great pant / Poor material
I love these pants have several pairs of them but they keep getting holes in the seams on the sides of the leg. Not sure if it is just a poor stitch but they do not last as long as they should.
Date published: 2016-09-19
Rated

3

out of

5
by
bskopins
from
In the Words of Buddy the Elf, "Very Purpley"
I wanted to love these pants, if they were just slightly darker in color they'd have been perfect - insteady they were VERY purple.
Date published: 2016-03-18
Rated

3

out of

5
by
Sophisticated
from
Great spring pants
I bought this pant in vibrant flame in size 2. It is a nice orange color for spring. It is true size. The material is bit scratchy but overall I am happy with the fit and color. Perhaps Jcrew can look more into quality control of this pant for next season....
Date published: 2016-03-17
Rated

3

out of

5
by
Tampa41
from
Missed the mark
I own these in black and have loved wearing them. Ordered the same size in navy and the size was totally different and they had to go back. What a shame.
Date published: 2016-02-26
Rated

3

out of

5
by
SMB123
from
Nice fit, professional basics
Good fitting, appropriate work pant. I am petite and the cut hit just at my ankles without having to be tailored. Good material. Loved when I put on but after wearing for a whole day they stretched out, but not as bad as some other pairs I have worn. Considering purchasing another pair.
Date published: 2015-09-09
Rated

3

out of

5
by
trixiebk
from
Love but disappointed
I put these one and within 5 minutes the seam ripped. They are so cute and I got a bunch of complements, but not very high quality.
Date published: 2015-06-18
Rated

2

out of

5
by
Sunny
from
I thought I loved them...
I bought a few pairs of these pants a few months ago and I loved them! They were very comfortable and great for work. So naturally, I decided to order a few more pairs. Unfortunately, these new pants were no where near the quality of the pairs I had initially purchased. I have worn one of them TWICE and they have already begun falling apart. I have changed my stance from a definite yes to a would not recommend.
Date published: 2017-03-22
Rated

2

out of

5
by
LS01
from
Poor fabric quality
The first time I bought these pants around a year and a half ago, they fit perfectly in a 00 in black and navy. One of my pairs had a hole near the zipper soon after I bought it, and another started to separate near the inner seam. I wanted to buy the pants in the new light blue color but the material was thin enough to clearly see everything underneath, even when I went up a size, so I gave up on that. I recently tried to buy a few more pairs in black and navy, but the material seems to have changed. The pants feel much more plastic-like now, and even in a larger size they seem too tight and thin, and they are stretch in an unattractive way.
Date published: 2017-01-04