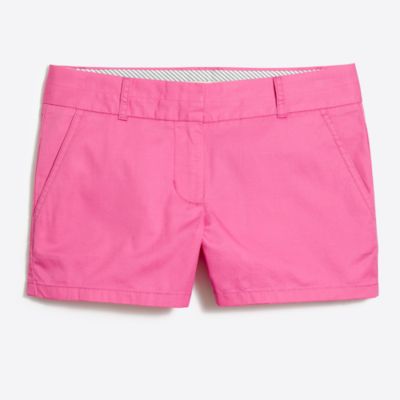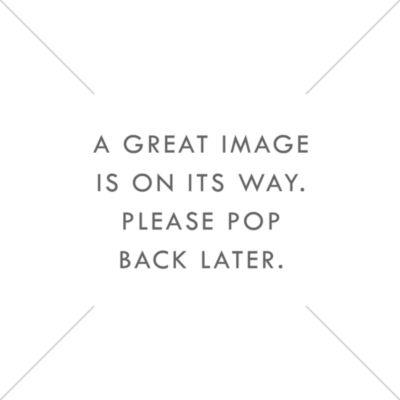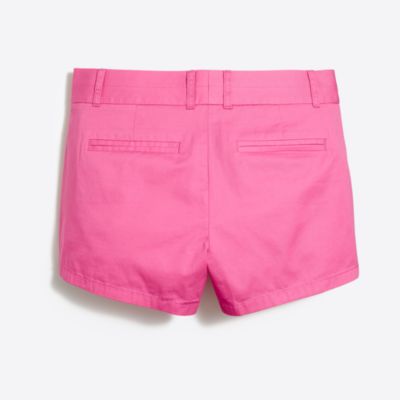 Product Details
Cotton.
Sits just above hip.
3" inseam.
Zip fly.
Slant pockets, back welt pockets.
Machine wash.
Import.
3" chino short
is rated out of
5
by
111
.
Rated

5

out of

5
by
Casey
from
HAVE ALMOST EVERY COLOR
These are simply thee best shorts I have ever owned, I discovered them last summer! The factory ones run a bit smaller, but just a tad. I am a 6 in the J. Crew chino shorts, but the J. Crew Factory shorts I am an 8! I have wider hips and the extra room of the 8's make the shorts more comfy. The 3" inseam is perfect for women with wider hips and rounder bottoms (just sayin!) Would COMPLETELY recommend these shorts to ANYONE! Plus they last (I feel) like forever! Easy to wash and wear! Would just recommend going up a size from the normal shorts sold at J. Crew stores!
Date published: 2016-05-11
Rated

5

out of

5
by
Shortsluver
from
Great shorts for Spring/Summer
Super comfortable and true to size. Flattering and recommend them in navy.
Date published: 2016-04-30
Rated

5

out of

5
by
jenn
from
LOVE these!
I bought these in navy and the light blue color. I was REALLY nervous about ordering online as I have a hard time with sizes. When they arrived I was pleasantly surprised. I love the fit! They have some stretch to them but not enough that the shorts lose their shape and look sloppy. They can be dressed up or down and are a great light weight short, perfect for hot weather. I wouldn't say they are thin but they are not the thickest shorts I have and could see how some colors may be see through. The 3 inch length is perfect for me. For reference I'm 5ft 3in and about 116lbs and the size 2's fit me perfectly.
Date published: 2016-03-25
Rated

5

out of

5
by
xokimmy
from
Great shorts
I have I think 4 pairs of this style of shorts (between Factory and regular J Crew). The pair I most recently purchased from Factory were a bit lighter/thinner than the others, but the coral color is fantastic. They are very comfortable and I find them to fit try to size. The 3" is a great length for me (late 20s), as they don't seem to mom-ish or too college girl. I would highly recommend purchasing a pair (or three!) of these, especially when they are on sale.
Date published: 2015-07-22
Rated

4

out of

5
by
jaime
from
j.crew factory shorts
Shorts are nice, fit well but they are definitely thinner than the j.crew shorts in store...I guess factory shorts are made with thinner quality fabric.
Date published: 2016-09-16
Rated

4

out of

5
by
catlover56
from
Don't Dry in the Dryer!
I am an avid J. Crew shopper and love the 3 inch chino short. I recently purchased a pair of beechwood colored ones in a size smaller then normal because I'd lost weight and found that my old J. Crew Factory shorts were too big. When they arrived they fit a little snug but it was comfortable and I was satisfied with the look. One day I was running late for work and needed to dry my shorts quickly. My shorts shrank a lot and now are almost too snug to wear. I'm disappointed that the shorts shrank so much in so little time in the dryer. As I will probably buy more pairs of J. Crew Factory shorts, I would advise never to throw them in the dryer even though it says on the tag you can!
Date published: 2016-06-22
Rated

4

out of

5
by
Tgainer
from
Chino Shorts
They are true chino shorts, except they are a lighter weight, they aren't the heavy duty kind.
Date published: 2015-09-01
Rated

4

out of

5
by
beth9283
from
Thin material but looks amazing
I love these shorts. These are the third pair that I've bought so far and they look great. My only complaint is that the material is rather thin and they get wrinkled easily. I recently sat outside on a hot, central Illinois day and my sweat showed right through because of the thin material. Other than that, I can't get enough of how nice they look. Easily dressed up or works great for a casual outfit.
Date published: 2015-07-29
Rated

4

out of

5
by
LauraA
from
Different fit than J. Crew chinos
I've ordered two pairs of chinos from J.Crew and two from J.Crew Factory and the Factory ones were definitely different. I would go up a size in the Factory chinos because they run smaller and I've noticed that the shorts are made of a thinner material.
Date published: 2015-07-13
Rated

4

out of

5
by
jcrewlover
from
Cute Shorts but Thinner Fabric
I bought several shorts for my daughter after she tried the same style on at the regular store. Then saw the same style at the outlet online. The shorts were cute on and the sizes were the same but the fabric quality was not the same as the regular store. These were made out of much thinner fabric.
Date published: 2015-07-09
Rated

4

out of

5
by
Salamanda09
from
Summer Staple
These shorts are a staple in my summer wardrobe. The material is very nice and actually looks better as it is broken in over time. However, this year's 3 inch shorts fit smaller than those from previous years. I had to size up to a 0 this year, but the smaller size (00) from last year still fits me perfectly. This year's shorts also have a more tailored fit in the leg compared to last year's, which I appreciate, because it is more flattering! If you've bought these in the past and plan on buying again this year, you may want to size up!
Date published: 2015-05-29
Rated

3

out of

5
by
CrewFactoryCloset17
from
Smaller than in the past
I have these shorts in almost every color and I have always been loyal to Factory for their history of size consistency. However, I purchased a new pair of navy Chino's the other day to replace my old pair and the size was nothing like what I am used to. I decided that I wanted a size bigger so I went from a 2 to a 4 and when I got them, they fit the EXACT same way as the 2. I have other pairs in a 4 and those are significantly larger than this new pair I just received. I am so disappointed as a very loyal customer. Size changing (if this situation is not just a mislabel or other defect) not only is inconvenient and irritating for someone who knows their size and likes to confidently shop online, but also can make them extremely self conscious when they have to go up a size when smaller sizes from a year ago fits them perfectly fine.
Date published: 2017-02-14
Rated

3

out of

5
by
Rebecca
from
Good shorts - until they shrank
These shorts are much more fitted than the old JCrew chinos. They are still cute though, and the material is nice and thick. They also only have 1 buckle at the top instead of 2 and the button, as the old ones did and this new closure does not hold the top together as well. Also, they shrink a lot. I am petite but these shorts are now shorter than I would like. I'd get them again, but not put them in the dryer!
Date published: 2016-09-02
Rated

3

out of

5
by
Msanch07
from
Fell short of a summer staple
Since summer is here, I found myself without shorts, I had ordered a different pair of the chino's in the geometric print so I assumed it would be the same size and material. Upon receiving these the material is really light and almost see through in the khaki, and unfortunately they run smaller.
Date published: 2016-07-06
Rated

3

out of

5
by
JB99
from
FUN IDEA
I was in love with the two pairs I had gotten from J Crew and wanted to get more. In my mind I knew J Crew Factory would be cheaper quality, but I still tried them out. I got two pairs of the 3" and one of the 4" and they are great. They've lasted me a while. However, one of the pairs I received was cheesier than the others. The clasp was loose but I thought it was just like the rest. Now, the clasp is so loose that they won't shut right. I still love the other two pair and they are wonderful, but I would recommend the J Crew ones instead.
Date published: 2015-05-11
Rated

2

out of

5
by
Jennifer
from
Thin material wrinkles easily
I was hoping the quality improved since the last pair I purchased, yet it hasn't. The material is thin and wrinkles/stays wrinkled very easily. Regardless of the fact that I just ironed the shorts, as soon as I sit down they get wrinkled and poofy in the area you don't want to look poofy/poochy. Will return.
Date published: 2017-02-25
Rated

2

out of

5
by
Cheyenne
from
Too Thin
I have a few pairs of chino shorts from J.Crew and I loved them because of the thicker material. These are way too thin and the white is COMPLETELY see-through. I will definitely be returning the white, though the other colors I can learn to live with.
Date published: 2016-09-13
Rated

2

out of

5
by
mpcc0308
from
Buy Regular J Crew Chino Shorts Instead
I have a few pairs of the 3" chino shorts from j. crew and two pairs from j. crew factory. I was told the quality was the same. This is wrong. The factory shorts are so thin and not nearly the same quality. Wait until the regular j. crew shorts go on sale. It is not worth buying poor quality shorts.
Date published: 2016-07-19
Rated

2

out of

5
by
Kelli
from
not the quality I expected
I was disappointed that these shorts were a much lighter weight fabric than the sturdy J. Crew chinos I normally wear. They wrinkle and stretch very easily.
Date published: 2016-06-20
Rated

2

out of

5
by
Chelsea
from
Where did the old chinos go?
I bought two pairs of the 3" chino shorts (navy and light blue) after reading that the lighter colors were see-through. I have been buying J. Crew / J. Crew Factory chino shorts for years and I love the thick, durable material that holds up to washing, doesn't wrinkle, etc. This is a completely different cotton material. It's very lightweight and thin, and when I sit down the bottom hems of the shorts actually begin to roll up. Bring the old material back please!
Date published: 2015-10-05
Rated

2

out of

5
by
duchanh
from
Disappointed
I love these shorts, they fit great and great length for me. Somehow, the material is too thin. I purchased these in the past and this year version is so much thinner. Great shorts, but great disappointment on the material. Return.
Date published: 2015-07-19
Rated

1

out of

5
by
Julie
from
DO NOT PURCHASE THE WHITE SHORTS
They are completely see through and of terrible quality. I have the shorts in three colors. Blue is great, pink are somewhat see through and white are unwearable. They were on final sale which is a shame, and also very uncharacteristic of JCrew.
Date published: 2017-02-24
Rated

1

out of

5
by
Annie
from
Not the same as others
I bought these with the idea that I was getting the best shorts that I have worn ever. I have 4 or five others that I got over the years and that I absolutely love. However the black and white ones that I got his year are made of very thing cotton... The others were more of a twill and heavier material. These were a complete disappointment and I am reluctant to buy any more in case I get disappointed again. What a shame... White ones were completely see through.....bring back the other heavier material....
Date published: 2015-08-07
Rated

1

out of

5
by
Prepster
from
Small and see-through!
Do NOT order the chinos in white! I own a bunch of chino shorts from JCrew that I bought in years past, but the quality is clearly getting worse this year. The white shorts are completely see through, and very thin. The size 4 normally fits really well with some extra leg room, but the 4's I ordered were very tight and showed way too much. You can see any type of underwear straight through. Overall, size up if you're ordering them, but definitely stay away from the white. I am quite disappointed in the quality of these shorts.
Date published: 2015-08-01
Rated

1

out of

5
by
LAstyle32
from
Poor fabric quality
The fabric for these shorts is not the same as pairs I've purchased previously - runs really thin and is completely sheer!
Date published: 2015-06-17
Rated

1

out of

5
by
Kathleen
from
Disappointing change
I used to love the J.Crew Factory chino shorts. However, they've changed them a lot in the past year and the quality is no longer there. I ordered a pair of white ones which are 100% see through to the point where you can see the pockets through the shorts. Not to mention, the cuffs are much smaller than previous years so can no longer be rolled comfortably. I like the color selection on these shorts but the changes are a let down.
Date published: 2015-06-03
Rated

2

out of

5
by
Kate
from
Chino see through shorts
I ordered the 3" chinos in both black and white. The black ones fit me great and look very nice. I love them! Unfortunately, the white ones, however, fit me great also, but they are pretty much completely see through. It's not really the undergarments that worry me, but I really hate how you can so clearly see the white pockets outlined against the see through short material. I'm not an overly modest person but even a friend of mine said they are too see through to wear. I'll sadly be returning the white pair.
Date published: 2015-04-24
Rated

2

out of

5
by
Becky
from
White is too see through
The shorts fit very well, but the white is way to see through to wear. I'd recommend trying a darker color that won't show all.
Date published: 2015-04-23
Rated

5

out of

5
by
Cate
from
A summer staple
These shorts are my favorite chino shorts I own. I have at least 10 pairs in all different colors and I love them. Good quality and they fit true to size. I live in Florida so I can enjoy these year round and they last wash after wash. Love!
Date published: 2015-05-10
Rated

1

out of

5
by
Hannah
from
WAY too sheer
I am so sad about these shorts. I love the style and the fit is great, but the white version is 100% see through. They are so sheer that not only can you see the outline of the pockets through them, as other people have noted, but I could also see the tag in the back straight through them. I expected to have to wear nude underwear with white shorts, of course, but even that is extremely visible. The quality of the fabric is extremely bad, and it would be embarrassing to wear these in public. Very disappointing, JCrew, as I usually love your chino shorts.
Date published: 2015-07-17