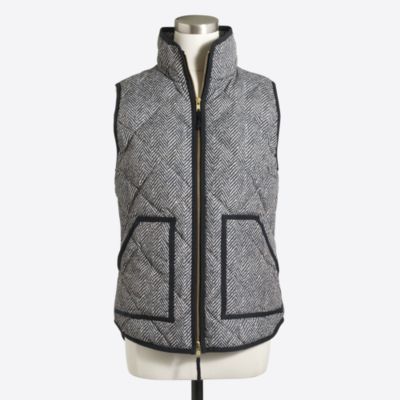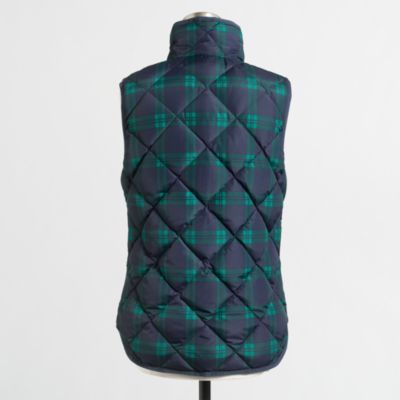 Product Details
Down-filled poly.
Hits at hip.
Standing collar.
Zip closure.
Patch pockets with hidden snap closure.
Machine wash.
Import.
Printed quilted puffer vest
Printed quilted puffer vest
is rated out of
5
by
159
.
Rated

5

out of

5
by
rachhatch
from
Love this vest! Don't listen to other reviews
I'm just reviewing to give this vest the justice it deserves! I've been shopping around trying to find a herringbone vest for fall. Before buying, I read the reviews and was slightly confused by all the negative ones. The description of the vest is "PRINTED Quilted Puffer Vest", so no, it's not tweed or wool; it's the same material you'd expect the polka dot vest to be made from by viewing pictures. It is however, still a great vest, and appears to be a textured material. It's a really good quality, and is easy to clean. Great for layering, and not very puffy/bulky. Just what I was looking for :).
Date published: 2016-09-01
Rated

5

out of

5
by
librarirun
from
Printed Herringbone Vest XS
I know everyone was making a big deal about the "printed" on pattern of herringbone vs. actual herringbone material of these vests. One of the issues that people don't understand about real herringbone vs. printed - I found that a real herringbone vest will eventually "pill" and "fuzz" from just a few wears - and is not water repellent (which is what you want in one of these vests...) I LOVE my J.Crew Factory printed herringbone vest - it fits me perfectly - and one of the things I noticed about these vests vs. others - they are more loose/relaxed under the arms. Other vests tend to hit too high up under the arms, and then they rub. I also love the double zipper on top and bottom. I love this vest, and I wear it as much as I can. I think they look great.
Date published: 2015-12-21
Rated

5

out of

5
by
Vestlover
from
best purchase for an adorable vest
i love this vest so much. I don't think i have gone a day without getting 20 compliments on it. Mix it with a flannel and it looks so cute!
Date published: 2015-11-30
Rated

5

out of

5
by
ClaireJ
from
READ THE REVIEWS!
You need to read the reviews before purchasing this vest! Yes, it runs large. Size down a full size. No, it is not wool. The herringbone pattern is a print. As long as you pay attention to the reviews and know what to expect, you will be very pleased with this vest.
Date published: 2015-11-18
Rated

5

out of

5
by
ashleeb
from
Perfect for fall!
I love this vest. Fits great, perfect weight, great overall product! Well done JCrew.
Date published: 2015-11-16
Rated

5

out of

5
by
GGeet
from
Great addition to wardrobe!
I purchased this vest at the advice of my daughter who also owns the vest. I absolutely love the style and quality and it is so versatile - I can dress it up or down, depending on the occasion. My sister liked it so well I purchased one for her birthday!
Date published: 2015-11-16
Rated

5

out of

5
by
mperrone78
from
Cute Vest
This is such a cute vest. You can dress it up or wear it casual!
Date published: 2015-11-16
Rated

5

out of

5
by
mazi
from
love it!
Love love love it! People are complaining that the herringbone is printed on, but it's always been like that. I personally think it looks fabulous. I'm so glad they brought back the black, it's more striking. This vest does run large. I'm 5'6 130 lbs and got an xsmall. Fits perfectly!
Date published: 2015-11-11
Rated

5

out of

5
by
Jaden
from
Absolutely love it!
This is by far one of my favorite J.Crew purchases. Ive had my eye on this vest for awhile. Yes, it does runs big, so before purchasing look into purchasing a size or two smaller. It's so easy to dress up or dress down. so glad i invested in this vest. I absolutely love it!
Date published: 2015-11-04
Rated

5

out of

5
by
Karrie
from
Beautiful!
I bought the gray herringbone vest originally thinking the black would not return and I didn't want to miss getting this vest. It was exactly what I expected it to be... a gray herringbone PRINT as the title clearly states. I LOVE it! After the black returned, I decided to get that one as well. As others have mentioned, the white on the black and white herringbone is not truly white. Instead, it has more of a cream/pink hue. This was a bit disappointing at first, however, it does not stand out terribly as that when wearing. In photographs, it does appear as black and white. Also, definitely size down as it does run large. I sized down and I still have plenty of room to wear it over layered sweaters and such.
Date published: 2015-10-31
Rated

5

out of

5
by
FactoryAddict
from
THE Vest Did Not Disappoint
I've been covetting this vest for several years now, and finally broke down and bought it on sale. I'm 5'3" and usually will wear a 2 in J.Crew/ J.Crew factory, so I purchased this in an XS. I was worried it would be snug around the bust but huge in the waist since I have a 35" bust but a 25" waist. To my delight, it wasn't snug at all. I actually could stand to size down to an XXS, but I don't mind the fit being a tad loose. It fits nicely over my chunky sweaters and scarves. A lot of reviewers were disappointed in the fabric -- I rarely ever see puffer vests in anything but polyester. I'm sure this vest would look just as awesome in tweed, but it's still fabulous as is. If you zoom in on the photos provided in the listing, it's obvious that the vest is not tweed. In fact, the description even says "down filled poly." Overall, I am completely satisfied with my purchase, though I don't think I could justify buying this at full price.
Date published: 2015-10-21
Rated

5

out of

5
by
beclovesthis
from
Absolutely in love with THE vest!
I saw this vest all over Instagram last fall/winter and wanted it so badly! I bought it as soon as I saw it was available in gray, then purchased the (classic) black. When you look at the vest it appears black and almost peach, but when you are actually wearing it, it looks black and white... I know that sounds odd, but it's true! I will be wearing this vest frequently over the next few months! It's well made and very fashionable!
Date published: 2015-10-18
Rated

5

out of

5
by
EmilyAnne
from
Love This Vest-
I recently bought this vest and I LOVE IT! Print is a dorable but note it is grey not black
Date published: 2015-09-24
Rated

5

out of

5
by
Marion
from
Puffer Vest
Great style. Love the darker piping. Can't wait for the weather to chill up so I can wear it with my favorite jeans.
Date published: 2015-09-23
Rated

5

out of

5
by
Allie
from
Perfect Fall Vest
I love this vest so much, the herringbone print is perfect for fall. The vest fits true to size as well. All around, couldn't be happier i bought this.
Date published: 2015-09-17
Rated

5

out of

5
by
mshoez
from
NOT REAL TWEED! But cute. :)
This is not real tweed, so do not be fooled by the picture. It is definitely a nylon puffer vest. I ordered online and upon opening the package, it stunk very badly. Just a manufacture-y smell but not pleasant . The vest is really cute though, so I am Febreezing in phases (regardless of the fact that no item from J. Crew should ever smell - whatever). I ordered a medium and a large because I tween at JCF, and I decided to keep the medium. Didn't notice too, too much of a difference but felt more slim in the medium. Cute pattern and not bulky (so won't be very warm), but should be perfect for days when you can get away with wearing a vest over a coat.
Date published: 2015-09-16
Rated

5

out of

5
by
Frannie
from
Great fall staple item
Saw the original black herringbone vest on almost every blogger's Instagram last year and decided to jump onto the bandwagon. This vest is actually grey, but pairs well with a variety of different colors. I ordered an XXS, which is perfect for layering a LS shirt or sweatshirt underneath. Functionality-wise, it kept me warm during a windy night in SF and the buttons inside the pocket are ideal for securing your phone for easy access. Overall, I am satisfied with this vest! =)
Date published: 2015-09-16
Rated

5

out of

5
by
amberosa8
from
love this vest!
I really love this vest. Not only is it warm and comfortable, it's versatile enough to wear with everything in my closet. I like this new gray color a lot! The quality is great. The pattern is printed, just like these vests have always been. Can't wait to wear this all fall!
Date published: 2015-09-11
Rated

5

out of

5
by
TigerGirl
from
Another Home Run
Even though I have the previous years' black and cream herringbone pattern vest, I had to get this one as well. The gray is a nice touch, and if you've loved the other vests, this one will not disappoint. Size down one size from your typical JC/JCF size. No, it's not a cloth herringbone material, but I like the printed material because it is light and still breathes. If it were truly a herringbone material, it would get dirty and collect lint like crazy. This is a winner, in my opinion. Can't wait to layer it over a sweater for instant warmth this fall.
Date published: 2015-09-05
Rated

5

out of

5
by
JGBUSYMOM
from
Style and quality - why we buy J. Crew
My daughter loves this herringbone - mostly the fact that is is more of a dark gray than black. She has this vest is several colors - they are very warm and so versatile. They can be casual with long sleeve tee & leggings or really class up a nice outfit of dark jeans and a blouse with jewelry! Love it!!
Date published: 2015-09-01
Rated

5

out of

5
by
Laura
from
The best vest!
I had been wanting to purchase this vest for quite a while but it was sold out. This year I finally got it and I'm so happy I did. I am in love with vest! It will be perfect for layering with sweaters, button downs or pretty much anything! It does run kind of large and the fit is slightly boxy so I suggest ordering a size down from what you usually wear. Overall great vest!!
Date published: 2015-08-25
Rated

5

out of

5
by
FleurdeLys
from
Love the herringbone print
My daughter and I fell in love with this vest the moment we saw it online. And it didn't disappoint IRL! Love the herringbone pattern (yes, it is a print as the description says), love the gray trim which I find an improvement on the too eye catching black trim (esp on the pockets) of last year's edition. Keeps us nice and warm and can be combined with so many fall colors, plus looks great with a monochrome black/white/grey outfit. Runs large, so we both sized down.
Date published: 2015-08-24
Rated

4

out of

5
by
Meshellrae
from
Dissapointing Fabric Choice
Obviously, I didn't read the description. I thought the material would be wool-like. Instead it was a slick material. It would be far more stylish if the material were changed. If I would have bought this at full price, I would have returned it, but since it was on sale, I can overlook. Just be forewarned, its the texture of a puffy coat, not actual plaid shirt fabric.
Date published: 2017-02-22
Rated

4

out of

5
by
PetitMother
from
Great Vest
This was my first JCrew puffer vest purchase. I bought the herringbone print vest. The online picture looks like it's black and white but it's actually tan and black. Wish it was white and not tan but overall great vest. I am 5'3 and 100 lbs. I purchased XXS. Fits perfectly!
Date published: 2016-12-02
Rated

4

out of

5
by
steph
from
Runs big
I usually wear an XS at JCrew but this vest looked pretty big on me. My friend (usually wears XS too) is more busty than I am and the XS looked true to size on her. If you have a small chest, I would go down one size.
Date published: 2015-12-18
Rated

4

out of

5
by
Mand
from
Cheap material
I love this vest but I am very disappointed in its quality. The material is very cheap and definitely not worth it for the price. Luckily, I got it at 50% off so I'm keeping it. Its cute -- just not worth the price for the quality. If you want it, get it on sale.
Date published: 2015-10-02
Rated

4

out of

5
by
Kellie
from
Cute look!
I LOVE this vest! Although I do have to agree with the other reviews, the quality isn't something I would imagine from a J. Crew product. It's not terrible quality, but I don't know why anyone would pay full price for this. The sale price is much more accurate. SIZE DOWN!! I am usually a medium, but I read the reviews that it runs large and ordered a small. Thank goodness I did! The small fits perfectly
Date published: 2015-09-21
Rated

4

out of

5
by
Har2n8
from
Key word: PRINTED
I believe this item has bad reviews because previous buyers did not register that the pattern is printed on the vest. I would also be upset if I were expecting the pattern to be made out of threading instead of a printed pattern of faux threading. However, I enjoy nylon vests and I think the pattern is well printed and the overall quality of the vest is still superb. I am just waiting for the weather to get cooler so I can wear it!
Date published: 2015-09-17
Rated

4

out of

5
by
rubyshoes
from
Adorable, but boxy
I missed last year's version of this vest, so I was excited to see it again and ordered it right away. It's very cute, and the length was perfect. The fit, however, was a bit too boxy for me - I wish it nipped in a bit at the waist. It felt a bit like a protective, SWAT-like vest, unfortunately, so I sent it back.
Date published: 2015-09-01
Rated

4

out of

5
by
LaChienne
from
Printed puffers are your friend
You know when you are grabbing your outfit and it is missing something. Is it too plain? Is it to monochromatic? Is it missing a twist but you want to keep it classic? This could be the print for you. The print is fairly small and it is easy to mix with other prints because of its neutral nature without looking too matchy matchy. I know others complained about it not being herringbone per se but it is a herringbone print on top of the polyester fabric so it isn't really a herringbone weave. This could be your pop of print to break up the monotony of yet another plain puffer. It is mid weight and runs a size larger so I would suggest sizing down one size for a better fit. You can easily fit a cashmere sweater or merino underneath. I love the pattern and attention to detail around the pockets to add a little twist to the standard puffer vest.
Date published: 2015-08-28